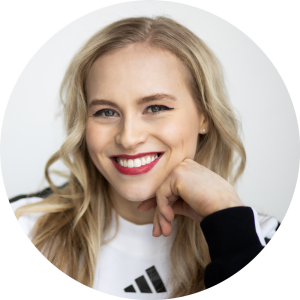 Ellie Black
Ellie Black is the top Canadian female gymnast of all time, and one of Nova Scotia's 15 greatest athletes in history.
The 26 year old continues to break barriers in the sporting world, defying ageism in the gymnastics world and inspiring countless women and young girls to go after their dreams and do what they love.
Her motto is: "Dream Big; don't let anyone else set your limits".
Ellie is a 3 x Olympian (competing in the 2012, 2016, and 2020 Summer Olympic Games). After suffering an injury during podium training at the 2020 Olympics, she finished 4th on Beam.
She is also 6 x World Championships Team Member, 6 x National Champion, 2 x Pan-Am Games All-Around Champion and was the 2019 Pan-Am Games Closing Ceremonies Flag Bearer for Canada.
CAREER HIGHLIGHTS
Canada's most decorated Pan-Am Gymnast at the 2019 Pan-Am Games in Peru, collecting 5 Medals and defending her 2015 All-Around Champion Title, making history
Bronze medal at the 2019 American Cup
Silver medal at the 2019 World Cup of Gymnastics Competition in Japan
Gold Medal at the 2018 Commonwealth Games
2018 Commonwealth Games All-Around Champion, in addition to a Silver Medal on Vault
Took home gold in beam final at World Challenge Cup in Paris, France
Made history at the 2017 World Championships in the All-Around final by becoming the first Canadian to ever win an all-around medal at a World Championship, taking home Silver