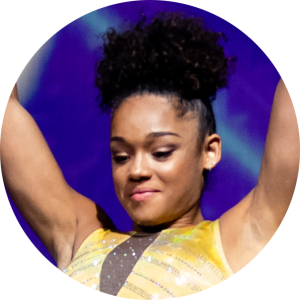 Mélanie Johanna de Jesus dos Santos
French gymnast and 2021 Tokyo Games competitor Mélanie Johanna de Jesus dos Santos began gymnastics at the age of five at a club in La Trinité on the Caribbean island of Martinique.

Her coach, Elsa Louis, recognized her potential and allowed her to participate in training camps with the French Gymnastics Federation. She became a member of the French national team in 2013, first as a junior.
She is the 2021 European Balance Beam champion, 2019 European All-Around champion, 2018 and 2019 European Floor Exercise champion, 2017 and 2018 French National champion, and 2017 European All-Around bronze medalist. She has also represented France at the 2017, 2018, and 2019 World Championships.
CAREER HIGHLIGHTS
2021 Tokyo Olympics representing France

2021 Gold medalist at European Championships Balance Beam

2019 Gold medalist at European Championships All-Around

2019 Gold medalist at European Championships Floor Exercise

2019 Silver medalist at European Championships Team

2019 Gold medalist at European Championships Balance Beam

2018 Gold medalist at European Championships Floor Exercise

2017 Gold medalist at European Championships All-Around