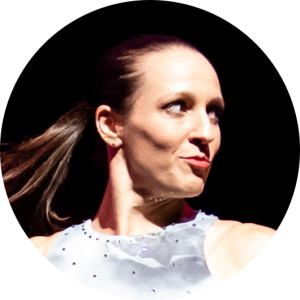 Chellsie Memmel
Chellsie Memmel staged an extraordinary return to elite gymnastics in 2021 after a nine-year retirement. The Olympic silver medalist and mom of two children competed in 2021 at the U.S. Gymnastics Championships and GK U.S. Classic.

Memmel won an Olympic silver medal in 2008 in the team competition. At the 2006 World Championships, Memmel helped her team earn the silver medal.

In 2005, at World Championships, Memmel became the first U.S. woman to win the all-around gold medal since 1994 when Shannon Miller won her second straight title. She also finished second in both the uneven bars and balance beam. Memmel tied for USA Gymnastics Women's Athlete of the Year in 2005.

Memmel burst into the spotlight in 2003 when she was named to the Pan American Games team and won five medals, including team and all-around gold. This was the first time the USA had ever won gold in teams. An alternate to the 2003 World Championships Team, she was cast into the lineup after injuries and illness of three team members. Memmel ended up playing a vital role in securing the team gold, earning the highest all-around marks of any team member during team finals. She went on to tie with teammate Hollie Vise as the World Uneven Bars Co-Champion. For her outstanding 2003 season, Memmel was named the 2003 TOPs Co-Athlete of the Year with Carly Patterson.

Memmel is the oldest of three daughters to Andrew and Jeanelle Memmel, both of whom were All-American gymnasts and won full college athletic scholarships. Her parents own M&M Gymnastics, where Memmel is coached by her father. Memmel has two sisters, Mara and Skyler, who are her role models.

CAREER HIGHLIGHTS

Chellsie Memmel staged an extraordinary return to elite gymnastics in 2021 after a nine-year retirement. The Olympic silver medalist and mom of two children competed in 2021 at the U.S. Gymnastics Championships and GK U.S. Classic.

Memmel won an Olympic silver medal in 2008 in the team competition. At the 2006 World Championships, Memmel helped her team earn the silver medal.

In 2005, at World Championships, Memmel became the first U.S. woman to win the all-around gold medal since 1994 when Shannon Miller won her second straight title. She also finished second in both the uneven bars and balance beam. Memmel tied for USA Gymnastics Women's Athlete of the Year in 2005.

Memmel burst into the spotlight in 2003 when she was named to the Pan American Games team and won five medals, including team and all-around gold. This was the first time the USA had ever won gold in teams. An alternate to the 2003 World Championships Team, she was cast into the lineup after injuries and illness of three team members. Memmel ended up playing a vital role in securing the team gold, earning the highest all-around marks of any team member during team finals. She went on to tie with teammate Hollie Vise as the World Uneven Bars Co-Champion. For her outstanding 2003 season, Memmel was named the 2003 TOPs Co-Athlete of the Year with Carly Patterson.

Memmel is the oldest of three daughters to Andrew and Jeanelle Memmel, both of whom were All-American gymnasts and won full college athletic scholarships. Her parents own M&M Gymnastics, where Memmel is coached by her father. Memmel has two sisters, Mara and Skyler, who are her role models.
2021 U.S. Gymnastics Championships, Fort Worth, Texas
2021 GK U.S. Classic, Indianapolis, Ind.
2011 U.S. balance beam silver medalist
2008 Olympic team silver medalist
2008 U.S. uneven bars silver medalist and all-around bronze medalist
2006 World team silver medalist
2006 U.S. floor exercise bronze medalist
2005 World all-around champion. She became the first U.S. woman to win all-around gold since Shannon Miller in 1994.
2005 World uneven bars and balance beam silver medalist
2005 U.S. all-around, uneven bars and balance beam silver medalist and floor exercise bronze medalist
2003 World team and uneven bars (tie with Hollie Vise) gold medalist
2003 Pan American Games team, all-around and uneven bars gold medalist and balance beam bronze medalist
2003 TOPs Co-Athlete of the Year