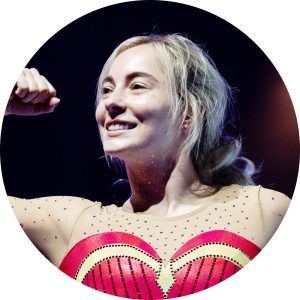 MyKayla Skinner
Acclaimed for her indomitable tenacity and daredevil skills, Olympic silver medalist MyKayla Brooke Skinner burst onto the American gymnastics scene when she won the junior individual all-around title at the 2011 American Classic. Now 24, she is the oldest U.S. Olympic gymnast since 2004, with a resilience and competitive spirit that have earned her a reputation as a powerhouse performer and model teammate.
MyKayla traveled an unusual path to the Tokyo Olympics. After qualifying as an alternate for the 2016 Olympic Team, MyKayla departed the world stage to compete for the University of Utah, where she became a two-time NCAA champion. Unexpectedly, she then decided to leave school in order to pursue her Olympic dreams again, mounting a comeback for the ages. Not even a year-long extension of training, COVID-induced pneumonia, a bone spur in one heel, and tendonitis could hold MyKayla back—no surprise to those who know Myk and her motto: "Never give up."
After Simone Biles unexpectedly withdrew from the vault competition, MyKayla got a second chance to shine and won the silver medal. "I did it for both of us!" she said.

Together with her husband, Jonas Harmer, and their Blue Bengal cat, Melo, she documented her journey to Tokyo on YouTube and Instagram. She is also featured in the Peacock documentary "Golden: The Journey of USA's Elite Gymnasts." MyKayla and Jonas are returning to Utah to complete their undergraduate degrees.
CAREER HIGHLIGHTS

2021 Olympics VT silver medal
2021 Olympic Team USA member
2021 National Championships VT silver medal
2019 National Championships VT bronze medal
2019 World Championships Team alternate
NCAA record holder for consecutive routines without a fall (161)
University of Utah record holder for All-America awards (26)
Two-time NCAA champion (FX 2017, VT 2018)
Two-time NCAA All-Around silver medal (2017, 2018)
2016 Olympic Team alternate
2016 Olympic Trials VT silver medal, FX bronze medal, AA fourth place
2016 Glasgow World Cup All-Around Champion
2015 World Championships Team alternate
2015 National Championships VT silver medal, FX bronze medal
2014 World Championships Team gold medal, VT bronze medal
2014 National Championships VT and FX silver medal
2012–2013: National Championships VT bronze medal