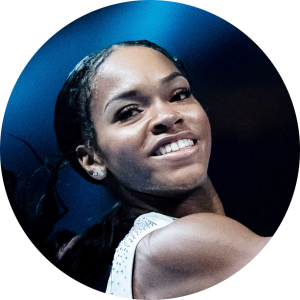 Shilese Jones
Shilese Jones represents the next wave of elite American gymnasts poised for international gold. Already a world renowned gymnast at 19 years old, Shilese, who started at four, has competed on a global level throughout her career including recently competing in the 2021 U.S. Olympic Team Trials and the 2021 U.S. Gymnastics Championships. Shilese is considered the one to watch for the 2024 Olympic games in Paris.

With such extreme pointed focus on being the best of the best, Shilese has overcome tremendous personal obstacles to get where she is today on the world gymnastic stage. On top of training, competition, and school, Shilese grew up helping care for her disabled father who has had to have multiple transplants and treatment to stay alive. Born in Seattle, WA, at a very early age, it was clear Shilese was athletically gifted. Making major sacrifices to assure Shilese received the best coaching available for her, in 2015, she and her family moved to Westerville, Ohio so she could train with Christian Gallardo alongside Olympic Gold Medalist Gabby Douglas.

Shilese is a five time U.S. national team member. Shilese even had a skill named after her ("the Jones") in the Junior Olympics Code of points: a one and a half twisting double back. It has taken tremendous discipline and focus for Shilese to compartmentalize the adversity, sacrifice and challenges her family has gone through while moving up the ladder to the world gymnastic spotlight.

Throughout much of this time Simone Biles has mentored Shilese and encouraged her to follow her dreams. "I am thrilled and grateful to be part of Gold Over America and help elevate women's gymnastics with my dear friend Simone," says Shilese, revealing her signature big smile.

Stunningly beautiful inside and out, Shilese is a typical teenager in many ways having fun with dance moves on TikTok. Shilese loves to choreograph dance routines and actually choreographed her 2021 Olympic trials floor routine in honor of her father. She eventually plans to study business at University of Florida where a scholarship awaits her once she is ready for student life. She loves designing leotards for gymnastics and hopes one day to have her own line of gymnastic sportswear. Because of her father's illness, Shilese supports the Diabetes Foundation charity.

Highly articulate, with a winning smile, Shilese has a bright future in gymnastics and beyond because of her gratitude, drive, charisma, dedication and compassion for others.


CAREER HIGHLIGHTS

5 Time US National team member
2021 U.S. Olympic Team Trials, St. Louis, Mo. - 3rd-VT; 10th-AA
2021 U.S. Gymnastics Championships, Fort Worth, Texas - 5th-UB
2021 GK U.S. Classic, Indianapolis, Ind. -
2021 Winter Cup, Indianapolis, Ind. - 2nd-AA; 3rd-UB, FX(T); 4th-VT
2019 U.S. Gymnastics Championships, Kansas City, Mo. - 5th-VT
2019 GK U.S. Classic, Louisville, Ky. - 3rd-VT; 9th-AA
2018 World Team Selection Camp, Sarasota, Fla. - 8th-AA
2018 U.S. Gymnastics Championships, Boston, Mass. - 5th-AA; 6th-UB(T); 7th-BB, FX(T)
2018 GK U.S. Classic, Columbus, Ohio - 4th-AA; 5th-FX; 6th-UB