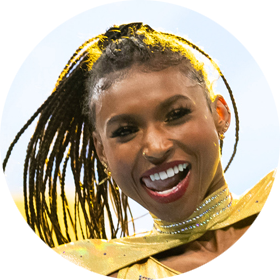 Nia Dennis
Recent UCLA graduate and viral gymnastics sensation, Nia Dennis aspires to inspire. Her viral floor routines celebrating Black Excellence paid homage to black culture and caught the eyes of everyone from Gabrielle Union and Alicia Keys, to Steve Harvey, Beyonce, Missy Elliot and many more. The talented athlete, who once dreamed of being an Olympian, almost reached her ultimate goal when in 2016, a torn Achilles, changed her path and taught her invaluable lessons about overcoming obstacles, perseverance and creating new dreams.

A member of the U.S. National Team from 2012-2016, Nia was a 2018 NCAA Gymnastics Champion and a leading contender on the UCLA Women's Gymnastics team. "The Culture" was a recurring theme in the fun-filled floor routines of her college career, as she treated the gymnastics floor as her stage and the perfect place to showcase black excellence to the world. In February 2020, just prior to the global pandemic, Nia tumbled and hip-hop danced to a Beyonce inspired "Homecoming" floor performance at the UCLA vs. Utah meet, that highlighted majorette-style dancing typical of historically Black Colleges and Universities (HBCUs) which resulted in millions of online views, becoming the #1 trending topic online, and landing Nia a guest spot on The Ellen Degeneres Show. In February 2021, another one of Nia's socially-justice filled floor routines from the UCLA vs. ASU meet, which came with a message of power and hope towards the push for equality, also wowed the internet and went viral at a time when the world needed to hear it the most, catching the attention of Michelle Obama, Vice President Kamala Harris and Janet Jackson, just to name a few.
Born and raised in Columbus, Ohio, Nia grew up with Midwest values and a supportive family who encouraged her illustrious Junior Olympic and Elite gymnastics career. She sacrificed a traditional classroom experience and trained more than 30 hours per week in order to reach Elite status and to compete internationally with the ultimate goal of getting to the 2016 Olympic Games. With a ruptured Achilles months before the games, Nia almost gave up on gymnastics.
Becoming a UCLA student-athlete helped Nia reestablish her love for the sport of gymnastics under the leadership of legendary head coach Valorie Kondos Field, and along with the sisterhood of her incredible team. Graduating in 2021 with a Bachelor of Arts degree in Sociology and a host of real life experience behind her, Nia has set her sights on the worlds of fashion, modeling, dancing and brand ambassador opportunities, in addition to continuing to support the sport of gymnastics with an emphasis on social justice and equality.
In the meantime, when Nia got the opportunity to train Joe, Nick and Kevin Jonas for their 2021 "Olympic Dreams Featuring Jonas Brothers" special, it was definitely a different type of dream come true. Sharing her experience and expertise with The Jonas Brothers, and getting the opportunity to help them pursue and conquer their own Olympic Dreams, hopefully helped open up the door to new adventures for Nia on a new and different type of stage…